Kashmir Art and Craft
Kashmir is the biggest source of information about the early man. Now we don't want to go deep down in the early civilization of Kashmir, here. Over the years the art and craft has become intrinsic trait of the Kashmiri people.  Kashmir Art and Craft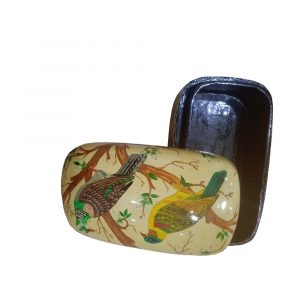 Kashmiri handicrafts are famous throughout the world for their artistic work and grandeur. The decades old rich tradition of creativity, and art needs no Introduction.
The famous handcrafted specialties include silk and wool carpets. Paper-Machie products, Pashminas, embroidered shawls, copperware and silverware are the other specialities in the Kashmir handmade products.
The vast cultural and ethnic diversity of Kashmir has enabled a variety of motifs, techniques and crafts to flourish on this land. Resulting the various handicrafts are in tune with its age-old splendid civilization.
Jammu & Kashmir boasts a rich heritage of art and craft. The valley of Kashmir is a heaven for culture lovers.  Kashmir Art and Craft
Jammu & Kashmir boasts a rich heritage of art and craft. The valley of Kashmir is a heaven for culture lovers.
A glimpse of the Kashmir's rich art & craft heritage is visible in the People's lives. Their utensils, clothing, furniture, jewellery, architecture, almost everything reflects the master skills and dedication of Kashmiri people.
Kashmir Carpets
Kashmiri carpets, shawls, Paper-Machie, silverware, copperware, throws evident light for their fine quality and craftsmanship.
The Kashmir handicrafts are unique. Many of them, like pashmina shawls, are much costly throughout the world.
The factor that promotes extensive handicrafts, is the weather and the cold winters. These factors are partly responsible for people staying and working indoors.
Carpet-making is an arduous and time-consuming task. Kashmir carpets are special case in point after the Persian styles.
In every corner of Jammu & Kashmir you can find traces of rich art & craft. There are small to large shops in almost every popular tourist attraction that sell Pashmina shawls, Paper-Machie items, embroidered clothes, carpet and more.
Kashmir Paper Machei.
Be it Kashmiri carpets, shawls, paper-machie or any other craft, it is only the Kashmiri artisan who can hands down show his mastery to carve out those masterpieces of Kashmiri art & craft.
Kashmiri handicrafts have tremendous potential in the national and international arena. Be it Kashmiri carpet, shawls, paper-machie all are exported to different parts of the world from Kashmir.
Kashmiri handicrafts are a traditional art of Kashmiri people. Handicraft is a source of living for many artisans in Kashmir.
Kashmir's main districts, Srinagar, Ganderbal, and Budgam, have been producing handicrafts for centuries.
The artistry of Kashmir with Palkis, bedsheets, trunks, inkstands, boxes, and spoons are famous all over India.
Kashmiri make different types of handicraft products with simple items and materials. Some notable areas are:
Embroidery work Crewel Embroidery
Kashmir Walnut wood Carving
Kashmir Paper-Machie
Textiles: – Woolen Materials, Shawls Carpets and rugs
Kashmiri Shawl
Pashmina or Kar Amir
Kani Shawl, woolen Shawls, Pashmina Shawl, Cashmere Shahtoosh Shawls
Do Shalla
Carpets and Rugs: – Namda Qaleen, Wagoo
Stone Crafting.
Walnut Wood Products
Kashmir is home to the best walnut trees in the world. The wood of these trees is used to create various furniture and showpiece items. Semi carvings, lattice work, lotus flowers and chinar motifs are the favourite handwork of artisans in Kashmir.
Products to buy from Kashmir is furniture like, tables, chairs, writing desks, dining tables. cigar and cigarette boxes, jewelry boxes, photo frames and countless other articles.
Paper-Machie Kashmir

Art and Craft
Paper-Machie is a French word that means chewed paper. The process of making it involves two steps: Sakhtsazi and Naqashi.
Sakhtasazi the initial stage of preparation. It includes the making of the figurine from the mixture of paper pulp, with the help of rice straw and copper sulfate. In the final step of Naqashi, several coats of paint are applied, and the figurine is decorated. Artists prefer to use organic colors to paint their mesmerizing products. The entire procedure is time consuming and tedious and requires much care and deliberation.
Some paper machie products
Vases
bowls
cups
boxes
trays
bases of lamps
Kashmir is also famous for the weaving of specialized fabrics like Pashmina Shawls, Kani Shawls, Raffle Shawls, Blankets, Lois, Chashme, Bulbul blankets, cotton, Arabian Rumals, Mufflers, Tweed Fabrics and linen fabrics. Kashmir Art and Craft
Kashmir Embroidery Types
In Kashmir, we experience colorful embroidery on many different types of apparel and fabric – Crewel Fabrics, Shawls, Jackets and many more. There are various types of embroidery techniques that Kashmiri craftsmen use. Kashmir Art and Craft
Crewel embroidery
It is done using a pointed crochet "Aari" on a cotton, wool, silk or some other suitable fabric. Crewel embroidery uses woolen or art-silk yarn for embroidery. The background fabric can be cotton, organza, velvet, linen or jute suitable for curtains and upholstery projects.
Crewel embroidery is by nature a chain stitch. And is used in the manufacture of chainstitch rugs, pillowcases and cushion covers. Wool or art silk yarn is worked in an allover fashion giving the chainstitch rugs a carpet like feel.
The second form of crewel embroidery uses cotton thread. It is Applied on apparel – coats, jackets, shawls, salwar kameez and others. The embroidery adds very little to the weight of the fabric. Woolen crewel embroidery in comparison will add 200 to 300 grams to each yard of fabric.
Needlework embroidery Sozni:
A needlework, Sozni is done on Pashmina shawls, woolen shawls, jackets, salwar kameez and sarees. Kashmir Art and Craft
Silver and gold embroidery: called "tilla", this type of embroidery work on ladies' cloaks "pheron", shawls and salwar kameez. It is a type of needlework embroidery and done using imitation gold or silver thread.
Kashmir Pashmina shawls
The word pashm means "wool" in Persian. In Kashmir, pashm referred to the raw unspun wool of domesticated Changthangi goats.
The goat found 15000 feet above sea level in the Himalayas in Ladakh.
A centuries-old reputation of being the best, is what makes the Kashmiri Pashmina Shawl an enshrined treasure.
The reason for high cost of Pashmina Shawls.
Every spring, the goats shed their winter coat and it is collected for the weaving process. One goat produces only about a few grams of Pashmina each year. To this, a single Pashmina shawl requires wool from about three goats. This is the reason for high cost of pashmina shawls. Kashmir Art and Craft