Kashmir Travel and Tourism
There Were no restrictions, there are no restrictions, and there will be no restrictions, if any one from the other states of India, or from any other part of the world. The people of Kashmir are extremely hospitable. Kashmir travel and tourism.
Kashmir is the sort of closed society type and highly religious, they live their own lives and least drag their feet in the other man's affair. The people of Kashmir will never tolerate the people walking on streets with no clothes or drinking alcohol on the roadsides. Therefore, the law-and-order machinery strictly monitors these social vices. The anti-social elements have no place in Kashmir.
Rest everyone is welcome here!
Here is the brief Description of the tourism in Jammu and Kashmir. Kashmir travel and tourism.
The Travel and Tourism
Kashmir is one of the most famed tourists landing places on earth. The appealing landscape and the soothing environs make it the best. Kashmir travel and tourism have made a unique placing on the world tourism map, accordingly.
A King said,
If there is Paradise on earth,
It is Kashmir,
It is Kashmir.
(The famous couplet about Kashmir by Mughal Emperor, Jahangir). Kashmir travel and tourism.
As there are thousands of tourist places worldwide, there Kashmir is seen as the best among all the tourist places.
What makes it best? There is a firm reason for this.
For it has all the basics, a human being can wish for.  Quite a balanced climate. Balanced terrain and balanced environs. And balanced socio-economic setup.
Apart from the above-mentioned niche. Kashmir tourism is complete in itself.
Kashmir has retained all this tourism stuff in its lap. And it paved the way for a new extent in tourism activity. For the first instance, people from all over the world like Kashmir for having their vacations.
Tourism is a viable 

activity.
Every nook and corner of Kashmir is a tourist station. Tourism is the second economic activity of Jammu and Kashmir. 
There are diverse tourist hustles and bustles in Kashmir. A tourist always wishes to stay in Kashmir forever.
Kashmir valley is rich in horticulture and apiculture too.  Kashmir valley is a part of Jammu and Kashmir. And it has got thrust over the other parts of the Union Territory. The Kashmir region has many valleys.
Sind Valley
Lidder Valley
And the Kashmir valley itself.
Each valley is a class of its own.
Kashmir Valley

Kashmir travel and tourism.
In the southwest it is bound by the Pirpanjal range of the Himalayas. And from the northeast, it is bound by the main Himalayas. Kashmir valley is vital for Kashmir travel and tourism.Kashmir travel and tourism.
The districts of the Kashmir division that form Kashmir valley 
are.
Anantnag
Baramulla
Srinagar
Pulwama
Kupwara
Bandipora
Ganderbal
Budgam
Shopian and
Kulgam
The other part consists of Gilgit-Baltistan and Pakistan administered Kashmir.
Srinagar
Srinagar is the summer capital of Jammu and Kashmir. It is located on the banks of the Jhelum River. The capital was ruled by the Mauryan empire around the 14th century. It was emperor Ashoka who introduced Buddhism to the valley of Kashmir. The traders from Central Asia came through the silk route and spread Islam in Kashmir. Interestingly, many people today see this route as a major part of Kashmir travel and tourism.
In 1814 Sikh rule was confirmed in Kashmir. And Maharaja Ranjit Singh ruled Kashmir. Until the year 1947 Srinagar was looked at as a princely state in British India.
Tourist Attractions in Srinagar
Mughal Gardens (Shalimar and Nishat Gardens)
Chesma Shahi
Nigeen Lake
Dal Lake
Badamwari
Harparbat Fort
Dachigam National Park
Harwan
Tulip Garden
Botanical Garden
Parimahal
Shankaracharya Hill
Badamwari
Lalchowk
Downtown
Zaberwan Hills
Jamia Masjid
Pathermasjid
Water travel Jehlum River
Anantnag
Anantnag is the southern part of the Kashmir valley. It consists of tourist attractions like
Pahalgam
Verinag
Achabal
Kokernag
Shri Amarnath Ji
Martand Sun Temple
Aishmuqam Shrine
Mattan Temple
Daksum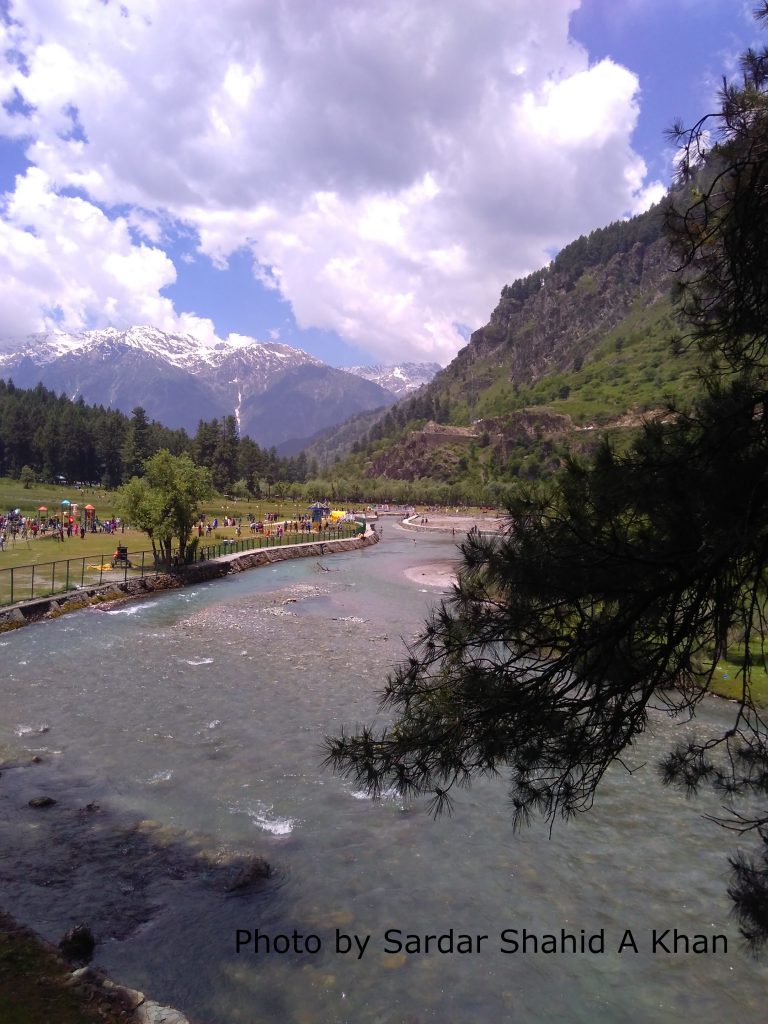 PAHALGAM has unique tourist attractions
Aru Valley
Betab Valley
Tullian Lake
Seshnag Lake
Chandanwari
Mamleshwar Temple
Harbagwan lake
Dabyan Valley
Baramulla
It is situated on the banks of the Jhelum River and is called Varmul in the local language.
Places of attraction
Gulmarg
Gulmarg Gondola
Parihaspora
Sopore
Alpather Lake
Khilanmarg
Frozpora and Ningli Nallah
Shiv Temple
Apharwat Peak
Babarishi Shrine
Rani Temple
Drang
Kongdori
Gulmarg Biosphere Reserve
Children Park
St Mary's Church
Pulwama
Pulwama is the centrally located district in the Kashmir valley. This district is also called the Saffron district. As this district produces the major chunk of the Saffron.
Places of attraction in the Pulwama district
Tarsar and Marsar Lake
Aharbal Waterfall
Jamia Masjid Shopian
Avantishwar Temple
Payer Temple
Pampore Saffron Fields
Kupwara
Kupwara is the northern frontier district of Kashmir Valley.  In the local language, it is called KUPWOR. Kupwara is a major part of Kashmir's travel and tourism.
Tourist attractions in the Kupwara district are
Badarkali:- the ancient holy place of Hindus
Bangus Valley
Drangyari
Jabdi
Keran Valley
Lolab Valley
Machil
Muqam Shah Wali
Redi
Reshwari
Bandipora
Bandipora is located on the banks of the Wular Lake and is called BANDPUR in the local language.
Places of attraction
Wullar Lake: The largest freshwater lake in Asia
Nishat Park
Chota Amarnath
Gurez Valley
Ganderbal
Places of interest
Thajiwas Glacier
Kheer Bhawani Temple
Gadsar Lake
Manasbal lake
Nilagrad
Zojilla Pass
Krishnasar Lake
Budgam
The main tourist attractions 
are.
Doodhpather.
Shrine of sheik-ul-Aalam.
Yousmarg.
Tosamaidan.
Nilnag.
Doodpather Meadows-Budgam-Kashmir
The major production of Kashmiri Pashmina shawls occurs in this district. The world-famous Kani Shawl has its origin in this district.
Shopian
Shopian is called Shupiyan in the Kashmiri language.  And it is situated on the historical Mughal Road and comes under the Pipanjal range of the Himalayas.
The places of tourist attraction are
Pir ki Gali, Mughal Road.
Aharbal Waterfall.
Mughal road.
Kousarnag.
Hirpora Wildlife sanctuary.
Kulgam
The main tourist attractions are
Houen Heng (Dog's Horn)
Vasaknag kund.
Lidder Valley
As the Lidder Valley is situated in Pahalgam Valley itself. This valley was shaped over millions of years. The Lidder River flows through the Himalayan mountains.
Sind Valley
The Sind valley is located in Kangan Tehsil of Ganderbal district. Historically, the old silk route went through this valley;  thereby, this silk route served as a bridge between India, China, and Central Asia. Islam spread in Kashmir Through this route.
Chenab Valley
 Chenab doesn't belong to Kashmir. Here are some things I thought readers of this blog may be interested in knowing.
Jammu and Kashmir's history has been marked by the Chanab River as well. This river flows betwixt the great Himalayan range.
This Chenab River flows through Doda, Kashtwar, and Ramban, districts of the Jammu division. Heer Ranja's story is associated with this valley. Kashmir travel and tourism play an important role in the development of Jammu and Kashmir.